As seen in ProFood World, June 2020 Issue: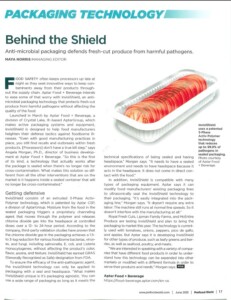 Behind the Shield:
Anti-microbial packaging defends fresh-cut produce from harmful pathogens.
Food safety often keeps processors up late at night as they seek innovative ways to keep contaminants away from their products throughout the supply chain. Aptar – Food Protection intends to easy some of that worry with InvisiShield, an antimicrobial packaging technology that protects fresh-cut produce from harmful pathogens without affecting the quality of the food.
Launched in March by Aptar – Food Protection, a division of Crystal Lake, Ill.-based AptarGroup, which makes active packaging systems and equipment, InvisiShield is designed to help food manufacturers heighten their defense tactics against foodborne illnesses. "Even with good manufacturing practices in place, you still find recalls and outbreaks within fresh products. [Processors] don't have a true kill step," says Angela Morgan, Ph.D., director of business development at Aptar – Food Protection. "So this is the first of its kind, a technology that actually works after the package is sealed when there's no longer risk for cross-contamination. What makes this solution so different from all the other interventions that are on the market is it happens inside a sealed container that will no longer be cross-contaminated.