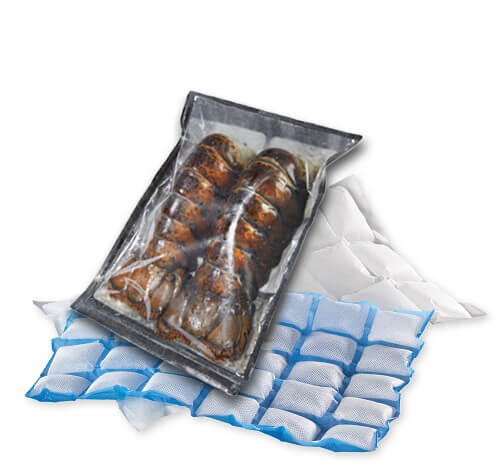 Aptar – Food Protection has fresh, cold product shipments all wrapped up.
Learn more about our IceWrap® ice & gel pack alternative by speaking with a Aptar – Food Protection representative today.
IceWrap® Frozen Hydrated Sheets

IceWrap® Brochure
A lightweight blanket with absorbent cells, when hydrated and frozen, keeps food dry and cold during shipping.
The cells of the blanket contain a super absorbent material, which when hydrated, produces a flexible gel that is trapped within each pocket or cell, creating a flexible "quilted" pattern that is frozen before use. The pads provide a uniform, cold, temperature blanket around the product during shipment. Providing a wider product coverage area, the pads are an ideal replacement for gel packs. Preferred by airlines and courier services to wet and dry ice, IceWrap® is used for shipping a variety of products including fresh and live seafood, fresh meat and poultry, fresh-cut fruits, vegetables and flowers.
IceWrap® is also used for medical, laboratory and therapeutic applications such as sport injuries, arthritis, etc.
Benefits
Improved freshness
Reduced spoilage
Reduced weight loss, kept cold during shipping
Reduced shipping costs, stays colder longer
Reusable
Stays colder longer than wet ice, does not release fluids when thawed
Easy to use
IceWrap® vs. Gel Packs
More Flexible
Better coverage of the Product
Stays Colder Longer
Lighter than Gel Pack
Reduces Shipping Costs