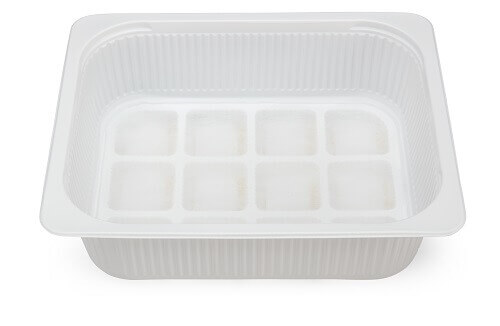 Take the first step towards fresher products with food packaging solutions from Aptar – Food Protection.
Learn more about our absorbent trays for food packaging by speaking with a Aptar – Food Protection representative today.
FreshWell™ Absorbent Packaging Systems

FreshWellTM Absorbent Packaging Systems
FreshwellTM Absorbent Packaging Systems (Trays) Technical Brief
Absorbent Packaging Systems for Fresh-Cut Fruits and Vegetables
A premium line of food packaging trays with absorbent technology designed to enhance food safety, improve quality and extend shelf life. The FreshWell™ packaging system is comprised of a patented blend of food safe materials that comply with both FDA and EU Food contact regulations – safe for human consumption.
The FreshWell™  trays come in ¼ steam (2.5 lb.) and ½ steam (3, 5 and 7 lb.)  capacity and achieve 12-14 days of shelf life for fresh cut fruit and vegetables. The extended shelf life results in better tasting products, higher sales, reduced waste, longer production runs and expanded distribution range. Using the tray eliminates the need to spin dry, resulting in improved yields and reduced product damage.