As seen in Packaging Strategies, July 2020 Issue: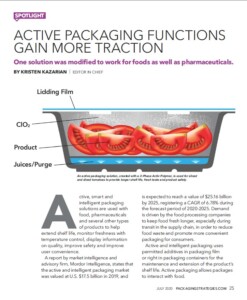 Active Packaging Functions Gain More Traction:
One solution was modified to work for foods as well as pharmaceuticals.
Active, smart and intelligent packaging solutions are used with food, pharmaceuticals and several other types of products to help extend shelf life, monitor freshness with temperature control, display information on quality, improve safety and improve user convenience.
A report by market intelligence and advisory firm, Mordor Intelligence, states that the active and intelligent packaging market was valued at U.S. $17.5 billion in 2019, and is expected to reach a value of $25.16 billion by 2025, registering a CAGR of 6.78% during the forecast period of 2020-2025. Demand is driven by the food processing companies to keep food fresh longer, especially during transit in the supply chain, in order to reduce food waste and promote more convenient packaging for consumers.
Active and intelligent packaging uses permitted additives in packaging film or right in packaging containers for the maintenance and extension of the product's shelf life. Active packaging allows packaging to interact with food…